JUSQU'ICI TOUT VA BIEN
Coin box, timer, wood lamp, fluorescent painting on wall, other material
Variable dimensions
2018


EN
Monet decided to develop the theme of the residency, reception, through a reflection on the concept of the threshold/boundary. Stimulated by an extremely relevant topic, that of the border between Italy and France as the cathartic site of the recent debate on illegal immigration, the artist presents a site-specific installation and a series of large cyanotypes. Monet's main intervention consists of the large phosphorescent inscription JUSQU'ICI TOUT VA BIEN (from French, SO FAR, SO GOOD) set up in a totally dark room. Through a visual experience that calls on the viewer to be activated (it is the visitor who "turns on" the work by means of a coin box), Ryts Monet highlights the concept of participation and responsibility. Art becomes the expedient for a reflection on the generative power that our choices, our actions and our way of seeing can have on social space and the dynamics that govern it. Similarly, in what Amitav Ghosh called the era of "Great Blindness," Ryts' reflection on light (a central element in all the works conceived for this project) is an invitation to a more conscious gaze.
Excerpt from the interview of Andrea Lerda by Elena Bordignon for ATP Diary
The installation was first presented on the occasion of Arca Family, an artist in residency programme in Cuneo (near the French border) organised by Zoo-Art and curated by Andrea Lerda.

The work was exhibited a second time to the public in the autumn of 2022, in a hotel room in Lignano Sabbiadoro on the occasion of MIR3, an artist residency organised by the Menti Libere association and curated by Eva Comuzzi. In this latest version, the inscription has been translated into Italian: 'FINO A QUI TUTTO BENE'.

The phrase "JUSQU'ICI TOUT VA BIEN" is taken from a scene in the 1995 film La Haine shot by director Mathieu Kassovitz in the Parisian banlieues.
IT

Monet ha deciso di sviluppare il tema della residenza, l'accoglienza, mediante una riflessione sul concetto di soglia. Stimolato da un argomento estremamente attuale, quello che ha visto protagonista il confine tra Italia e Francia come luogo catartico del recente dibattito sull'immigrazione clandestina, l'artista presenta un'installazione site specific e una serie di grandi cianotipie. L'intervento principale di Monet è costituito dalla grande scritta fosforescente JUSQU'ICI TOUT VA BIEN (dal francese, FINO A QUI TUTTO BENE) allestita in una stanza totalmente buia. Grazie a un'esperienza visiva che chiama in causa lo spettatore per poter essere attivata (è il visitatore che "accende" l'opera mediante una gettoniera), Ryts Monet mette in evidenza il concetto di partecipazione e di responsabilità. L'arte diventa l'espediente per una riflessione sul potere generativo che le nostre scelte, le nostre azioni e il nostro modo di vedere può avere sullo spazio sociale e sulle dinamiche che lo regolano. Allo stesso modo, in quella che Amitav Ghosh ha definito come l'era della "Grande Cecità", la riflessione che Ryts compie sulla luce (elemento centrale in tutti i lavori pensati per questo progetto) è l'invito a uno sguardo maggiormente consapevole.
Estratto dall'intervista di Elena Bordignon ad Andrea Lerda per ATP Diary

L'opera è stata presentata per la prima volta in occasione di Arca Family, un programma di residenza d'artista a Cuneo (in prossimità del confine francese) organizzato da Zoo-Art a cura di Andrea Lerda.
L'opera è stata presentata una seconda volta al pubblico nell'autunno del 2022, in una camera d'albergo a Lignano Sabbiadoro in occasione di MIR3, residenza d'artista organizzata dall'associazione Menti Libere e curata da Eva Comuzzi. In quest'ultima versione, la scritta è stata tradotta in italiano: "FINO A QUI TUTTO BENE".
La frase "JUSQU'ICI TOUT VA BIEN" é tratta da una scena del film L'Odio del 1995 girato dal regista francese Mathieu Kassovitz nelle banlieues parigine.
Ryts Monet, Jusqu'ici tout va bien, installation view at Michela and Luca Massimino house in Cuneo
photographs by Francesco Doglio for ART.UR, Cuneo, 2018
Second version in Italian language
Made in 2022 during the MIR3 residency in Lignano Sabbiadoro, Italy
French police block African immigrants trying to cross the border from Italy
Euronews, Jun 13, 2015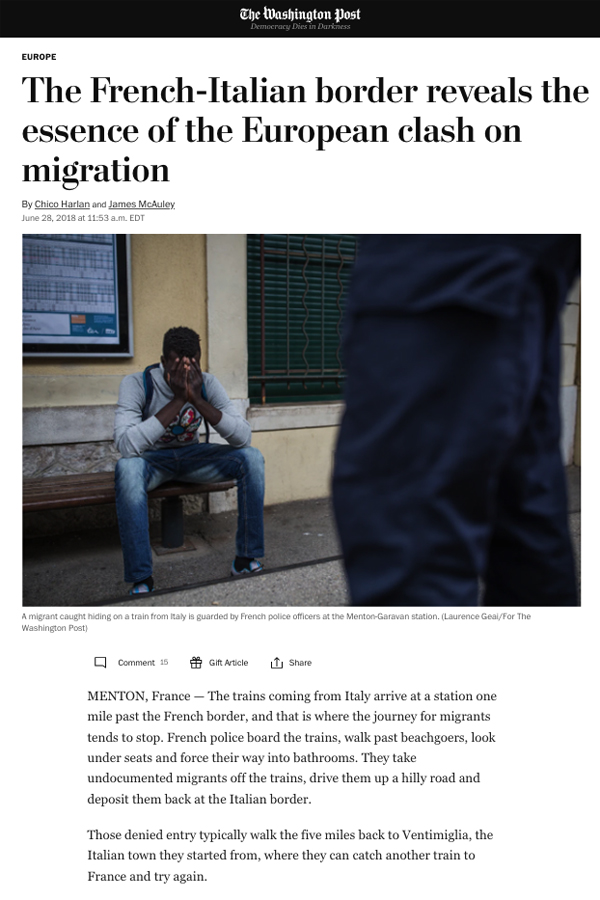 An article about the migrant crisis at the border between Italy and France
The Washington Post, June 28, 2018
At the French-Italian border: "It is illusory to think that we can prevent them from crossing".
Le Monde, Jun 23, 2018
A French police van was seen and filmed stopping on the edge of the forest, near the Cesana tunnel,
and letting off "with a wave of the hand" some African nationals, probably illegal immigrants.
La Stampa, Oct. 12, 2018