WORKERS, FROM ALL COUNTRIES UNITE! FORWARD! COMRADES LET S BOLDLY UI U GREA CAUS !…
Video installation, colors, no sounds, min: 31, sec: 42
2019



EN


For almost 40 years, the Buzludzha monument has been standing alone on the summit of Chadschi Dimitar in the middle of Bulgaria. The circular building with a70-meter-high pillar-like lookout tower is a masterpiece of brutalist architecture and was inaugurated in 1981 on the occasion of the 1,300th anniversary of the country. With the collapse of the Soviet Union, this pilgrimage site of communism, which was to symbolize the beginning of infinity, practically became the hub of a dysfunctional system. Since then, no body has felt responsible, and the once splendid party headquarters was left to decay. In a caring performance, Ryts Monet now take son this ruin and sweeps the floor in front of the main entrance, which is flanked on both sides by a Cyrillic inscription with missing letters, to which the title of the video refers. We follow the artist around the building and get an insight into the landscape surrounding the mountain. Although the film is without sound, one imagines the chirping of the birds, the wind blowing and the meditative noise of the sweeping. Lost in thought, we observe the repetitive, both exhausting and meditative, gesture of Ryts Monet, and ask ourselves:
How should we remember?


Katja Stecher For the group show TRAVEL APPARATUS at Das Weisse Haus, Vienna, 2020

IT

Da quasi 40 anni, il monumento di Buzludzha si erge sul vertice di Chadschi Dimitar, nel cuore della Bulgaria. L'edificio circolare con una torre di vedetta alta 70 metri è un capolavoro dell'architettura brutalista ed è stato inaugurato nel 1981 in occasione del 1.300° anniversario del Paese. Con il crollo dell'Unione Sovietica, questo luogo di pellegrinaggio del comunismo, che doveva simboleggiare l'inizio di un grande avvenire, è diventato il fulcro di un sistema disfunzionale. Da allora, nessuno si è più sentito responsabile, e il quartiere generale del partito, un tempo splendido, è stato lasciato a rovina. In un'attenta performance, Ryts Monet riporta l'attenzione su questo rudere e ne spazza il pavimento davanti all'ingresso principale, che è affiancato su entrambi i lati da un'iscrizione in cirillico con lettere mancanti, a cui fa riferimento il titolo del video. Seguiamo l'artista intorno all'edificio e ci facciamo un'idea dei paesaggi che circondano la montagna. Anche se il film è privo di suoni, ci si immagina il cinguettio degli uccelli, il vento che soffia e il rumore meditativo di chi spazza. Persi nel pensiero, osserviamo il gesto ripetitivo, estenuante e meditativo di Ryts Monet, e ci domandiamo: Cosa dovremmo ricordare?

Katja Stecher Per la mostra collettiva TRAVEL APPARATUS presso Das Weisse Haus, Vienna, 2020

Giovanni Battista Piranesi (1720 – 1778)
Veduta del tempio ottangolare di Minerva Medica, 1764
Video projection, color, no sound, 10'53''
Buzludzha during the opening ceremony in 1981.
photograph credits unknown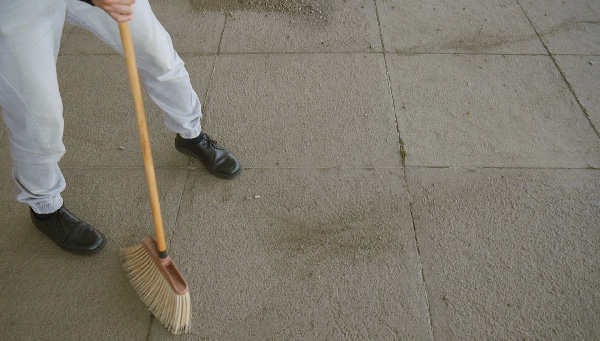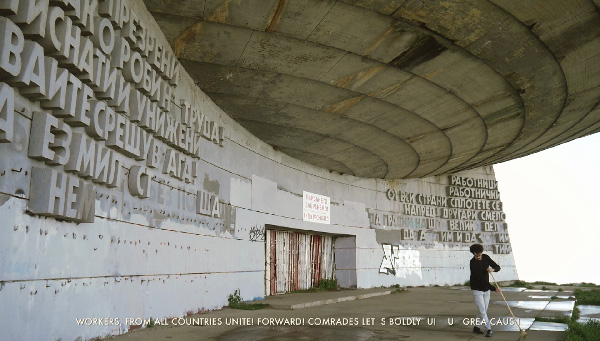 WORKERS, FROM ALL COUNTRIES UNITE! FORWARD! COMRADES LET S BOLDLY UI U GREA CAUS !…
stills from video, 2019
WORKERS, FROM ALL COUNTRIES UNITE! FORWARD! COMRADES LET S BOLDLY UI U GREA CAUS !…
Installation view at Schuld, solo show curated by Beatrice Zanelli and Arteco, Palazzo Frichignono, Torino, 2019
Photography by Francesca Cirilli