Schuld

(diptych)
installation, photogravures on paper, international banknotes, wood, glass and metal
variable dimensions
+
cyanotype on paper, bamboo, leather
paper size: 270 x 145 cm
2019
Realized with the support of Arteco, Torino, Italy
EN


"It is easier to imagine an end to the world than an end to capitalism"

Fredric Jameson

The work Schuld is a diptych consisting in a cyanotype and a series of photogravures that seem to refer to archaeological ruins from Mediterranean countries (Greece, Turkey, Lebanon, Syria, Libya), showcased following a traditional taxonomic display. Accompanying them are the international bank notes they are taken from. Antiquity becomes a metaphor for a past era in which the political-cultural unity of the Mediterranean was defined by the conquering ambitions of the Roman Empire. At that time, propaganda was already examining the symbols that could be used to build a shared identity that is now long gone.

In Schuld (cyanotype), a large blueprint introduces the viewer to a scene from the second edition of the film Beneath Planet of the Apes, in which the neoclassical pediment of New York Stock Exchange towers like an archaeological ruin at the feet of the main characters. This work, held up by an ephemeral freestanding support made from bamboo reeds, foretells the decline towards the Anthropocene geological era that our society is experiencing. In this case, too, the stereotype of the classical ruin dominates the scene, representing a highly semantic device that allows us to recognise and identify ourselves.*


* Beatrice Zanelli, extract from: Present Archive, reflections from a collection of prints. Publication curated by Arteco; A+M Bookstore and Viaindustriae Publishing, 2019.
IT

"É più facile immaginare la fine del mondo che la fine del capitalismo"
Fredric Jameson

L'opera Schuld è un dittico composto da una cianotipia e da una serie di fotoincisioni, apparentemente di ruderi archeologici afferenti ai paesi del Mediterraneo (Grecia, Turchia, Libano, Siria, Libia), disposte in una teca, seguendo un tradizionale display tassonomico; a corredo di esse vi sono le banconote internazionali dalle quali sono tratte. La classicità diventa metafora di un'epoca precedente, in cui l'unitarietà politico-culturale del Mediterraneo era stabilita dalle ambizioni di conquista dell'Impero Romano. In tale epoca la propaganda già indagava i simboli di cui servirsi per la costruzione di immaginari condivisi, oggi ormai così lontani.

In dialogo, Schuld (cyanotype), una grande stampa in cianotipia, conduce lo spettatore in uno scenario tratto dal film L'altra faccia del pianeta delle scimmie (Beneath the Planet of the Apes, 1970), nel quale il frontone neoclassico della Borsa di New York troneggia sotto forma di rovina archeologica ai piedi dei protagonisti. L'opera, retta da un effimero supporto autoportante, realizzato in canne di bamboo, anticipa il declino verso l'era geologica dell'Antropocene che la nostra società sta vivendo. Anche in questo caso lo stereotipo della rovina classica domina la scena, rappresentando un dispositivo di alto valore semantico che permette all'uomo contemporaneo di riconoscersi ed identificarsi. *


*Beatrice Zanelli, estratto da Present Archive, riflessioni a partire da un fondo di stampe. Pubblicazione a cura di Arteco; A+M Bookstore edizioni e Viaindustriae Publishing, 2019.



Postcards with view on Tempio della Minerva in Assisi (Right) and on the New York Stock Exchange (left).
Super 8 case of Beneath of the planet of the Apes, directed by Ted Post, film plot by Pierre Boulle, USA, 1970
Still frame from Beneath of the planet of the Apes, directed by Ted Post, film plot by Pierre Boulle, USA, 1970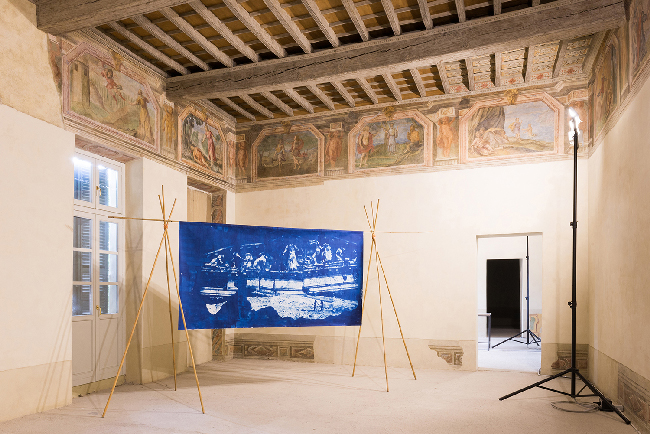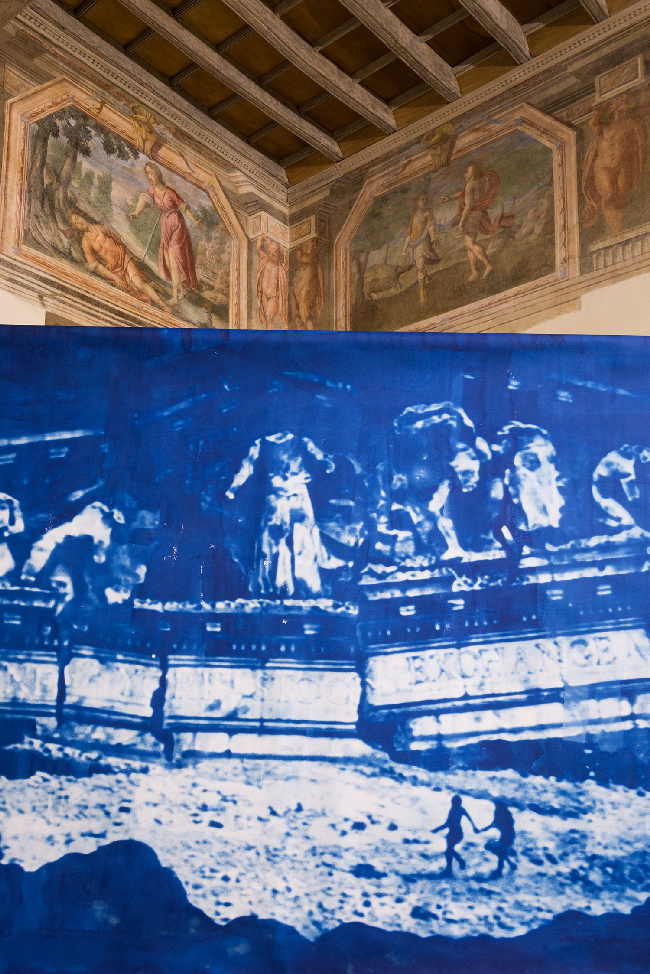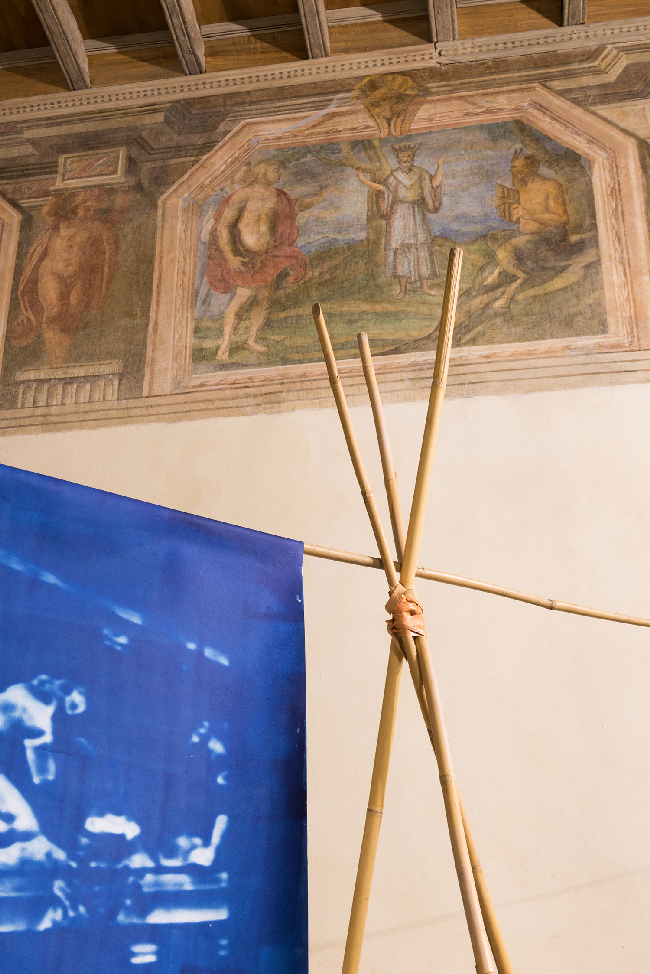 Schuld (New York Stock Exchange, cyanotype), paper size: 285 x 145 cm, 2019
Schuld (photogravures) Syria, paper size 70 x 50 cm, 2019
Schuld (photogravures) Turkey, paper size 70 x 50 cm, 2019
Schuld (photogravures) Greece, paper size 50 x 35 cm, 2019
Schuld (photogravures) Libya, paper size 35 x 50 cm, 2019
Schuld (photogravures) Lebanon, paper size 70 x 50 cm, 2019
Installation and exhibition views at Schuld, solo show curated by Beatrice Zanelli and Arteco, Palazzo Frichignono, Torino, 2019
Photographs by Francesca Cirilli
Schuld at MONEY MONEY MONEY, Galleria Michela Rizzo, Venezia, 2021