RUIN OR REVOLUTION
Ryts Monet and Andrea Steves Published by Irrelevant Press
300 copies
Risograph booklet (14 x20 cm) printed in black and red by Irrelevant Press in Oakland, USA
Newsprint (28 x 43 cm) offset printed by Newspaper Club in Glasgow, UK
2021
EN


Ruin or Revolution is the result of a long assemblages process undertaken by Ryts Monet and Andrea Steves during the first year of the COVID-19 pandemic (2020-2021). Using a flatbed scanner, Ryts Monet spontaneously assembled images from books found in various temporary flats where he stayed in isolation in Vienna, Andrea responded with quotations and texts in a long ongoing dialogue at a distance.
A selection of the scanner-collages by Ryts and the texts by Andrea were offset-printed on newsprint. The bibliographical references, quotes and the image index are included in the enclosed booklet produced with a Risograph printer.

Ruin or Revolution is the first collaboration between Ryts Monet and Andrea Steves. The limited edition publication of 300 copies is available on the Irrelevant Press website.


IT


Ruin or Revolution è il risultato di un lungo processo di assemblaggi intrapreso da Ryts Monet e Andrea Steves durante il primo anno della pandemia COVID-19 (2020-2021). Usando uno scanner, Ryts Monet ha assemblato immagini provenienti da libri e giornali trovati in diversi appartamenti temporanei dove ha soggiornato in isolamento a Vienna, Andrea ha risposto con citazioni e testi attraverso un lungo e costante dialogo a distanza.
Una selezione degli scanner-collage di Ryts e dei testi di Andrea sono stati stampati con tecnica offset su carta di giornale. Citazioni, riferimenti bibliografici e l'indice delle immagini sono invece inseriti all'interno del libretto allegato prodotto con una stampante Risograph.

Ruin or Revolution é la prima collaborazione tra Ryts Monet e Andrea Steves. La pubblicazione in edizione limitata di 300 copie é disponibile sul sito di Irrelevant Press.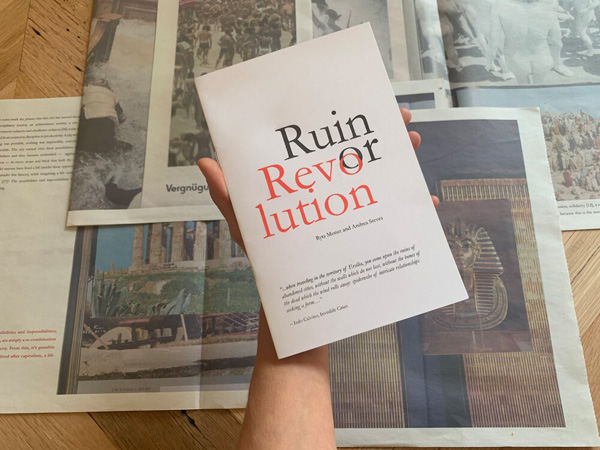 Ruin or Revolution, Ryts Monet and Andrea Steves Published by Irrelevant Press, 2021
Cover: Postcard of the Mask of Tutankhamun; book, detail of the Twin Towers (NYC)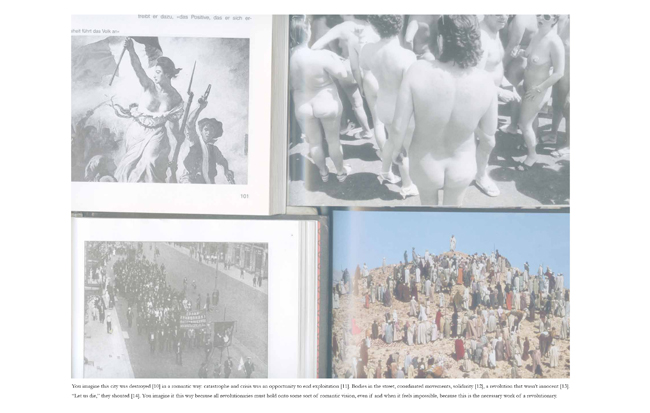 Layout of Ruin or Revolution, Ryts Monet and Andrea Steves
Newsprint (28 x 43 cm) offset printed by Newspaper Club in Glasgow, UK
Published by Irrelevant Press, USA, 2021