In Esterno
(oltre la scomparsa delle lucciole)
Public installation: 200 brass bells, Variable dimensions, Forte Marghera's island Venezia
2012


EN

In the natural environment of Forte Marghera, with minimal human intervention, he attached a couple of hundred tiny golden bells to the branches of trees like so many sensors in a mechanical device.
Calculated according to meteorological coordinates to emit sound and light that could be perceived on the other side of the bay from the fort itself, the acoustic canopy is a clin d'oeil to Pier Paolo Pasolini's 1975 'Fireflies Article', also known as 'The Disappearance of the Fireflies'.
Claire Tancons (excerpt from the exhibition catalogue)




IT


Nell'ambiente naturale dell'isola di Forte Marghera l'artista interviene applicando centinaia di campanelle d'oro ai rami degli alberi.
Studiata in base a coordinate meteorologiche, in modo che le campanelle emettano suoni e piccoli bagliori percepibili dall'altra parte della baia, l'opera è un rimando all'articolo di Pier Paolo Pasolini apparso nel 1975, noto come «La scomparsa delle lucciole»".
Claire Tancons (estratto dal catalogo della mostra)



Forte Marghera island, Venezia, 2012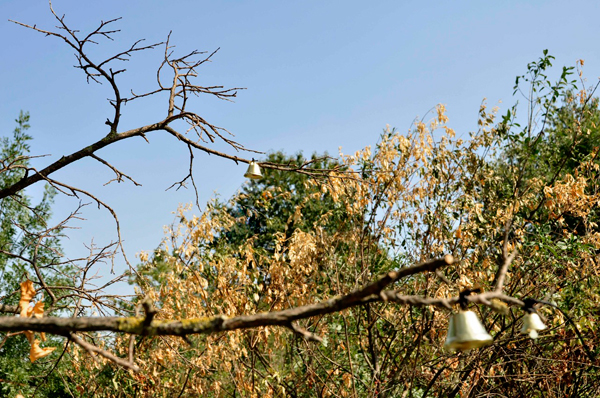 Ryts Monet, IN ESTERNO (OLTRE LA SCOMPARSA DELLE LUCCIOLE)
Forte Marghera, Venezia, 2012