EN


Miracolo da 50 punti (50 points miracle) consists in a composition of three elements, an assemblage of postcards, banknotes and oracles from the Chinese fortune cookies. The images of architectures, monuments and landscapes portrayed on the banknotes are combined with pictures of ruins appearing on the old postcards. A sentence printed on the oracles of the fortune cookies was assigned to each of these montages of elements.

IT

Miracolo da 50 punti è una composizione di tre elementi, un assemblaggio di cartoline postali, banconote e oracoli dei biscotti della fortuna cinesi. Le immagini di architetture, monumenti e paesaggi presenti sulle banconote sono associate a quelle delle rovine ritratte nelle vecchie cartoline. A ognuno di questi montaggi di elementi è stata assegnata una frase presente sugli oracoli dei biscotti della fortuna.
"YOU ARE GOING TO FIND RECOGNITION"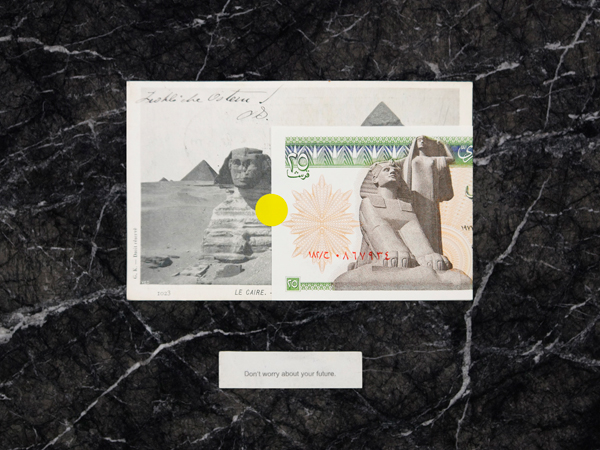 "DON'T WORRY ABOUT YOUR FUTURE"
"WITHOUT HESITATION YOU ARE SOLVING EVEN THE MOST DIFFICULT PROBLEMS"
"DON'T LET YESTERDAY INTERFERE WITH TODAY"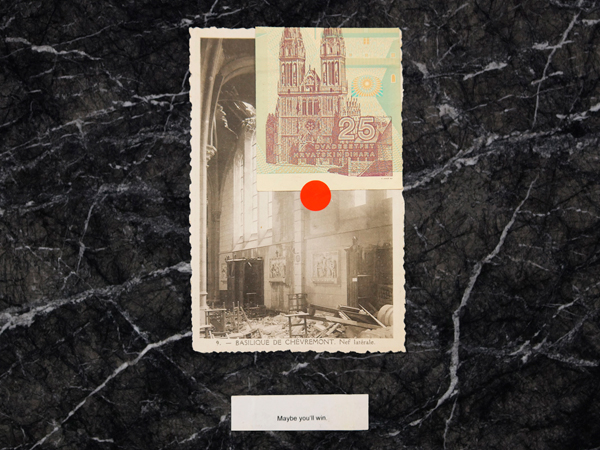 "MAYBE YOU WILL WIN"
"WITH KINDNESS YOU WILL GET EVERYTHING TOMORROW"
"YOU REALLY LOOK GORGEOUS TODAY"
"EVEN THE LONGEST WAY STARTS WITH THE FIRST STEP"
"EVERYBODY LOVES YOU"
"LIFE IS A CANDLE IN THE WIND"
Ryts Monet, Miracolo da 50 punti, installation view at Premio Cramum, Villa Bagatti Valsecchi, Milano, 2018